DETERMINATENESS AS THE BASIS OF THE DEFINITION OF BEING
Luka Domjanović

University of Zagreb, Faculty of Humanities and Social Sciences
Keywords:
being, definition, verifiability, property, definiens, meaning, graspability
Abstract
The article posits the definition of being as determinateness, which also includes several synonymous notions. The article demonstrates that the definition herein  resists the critique brought upon it by analytic philosophy (verifiability and falsifiability of the definition of being), that the definition is primordial (it cannot be constituted by other definitions), that a property that constitutes the notion of being is necessary, that the definition is meaningful (exactly due to the existence of the mentioned property, contrary to the serious accusations of meaninglessness of the notion of being throughout the history of philosophy) and, finally, that the definition encompasses everything that exists (without some transcendent 'residue').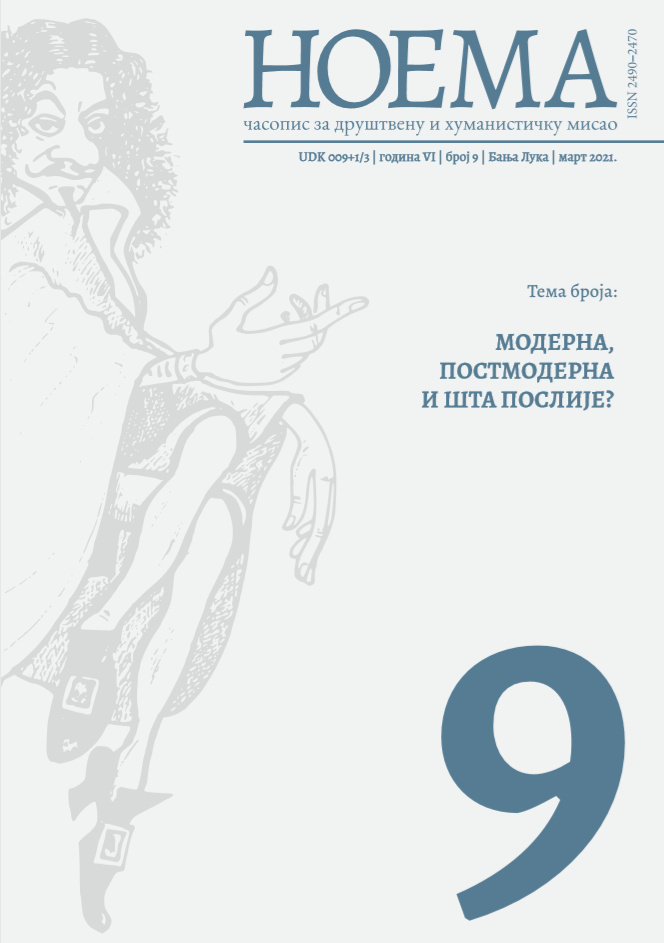 How to Cite
Domjanović, L. (2021). DETERMINATENESS AS THE BASIS OF THE DEFINITION OF BEING. Noema: Journal for Humanities and Social Thought, 6(9), 33-47. https://doi.org/10.7251/NOE2109033D
Copyright (c) 2021 Luka Domjanović
This work is licensed under a Creative Commons Attribution-ShareAlike 4.0 International License.