HISTORICAL SCIENCE BETWEEN TRADITIONAL HISTORIOGRAPHY AND POSTMODERN CRITICISM IN THE LIGHT OF SEVERAL WORKS OF HISTORIANS FROM BOSNIA AND HERZEGOVINA AND CROATIA
Elvir Selimović

Sarajevo, BiH
Keywords:
history, science, traditional historiography, postmodernism
Abstract
In the first part of the paper, by using relevant literature, the author offers an overview of the development of historiography from antiquity to the end of the 20th century, presenting the basic characteristics of historical thought, epistemological guidelines and applied methodological practices in ancient historiography, historiography in the Middle Ages and historiography in the 18th, 19th and 20th centuries. In the second part of the paper, the author describes postmodernist historiographical concepts, compares them with the basic principles of traditional historiography, and based on the views of professional historians, points to possible traces of development of a new methodology of historical science in the context of postmodernism.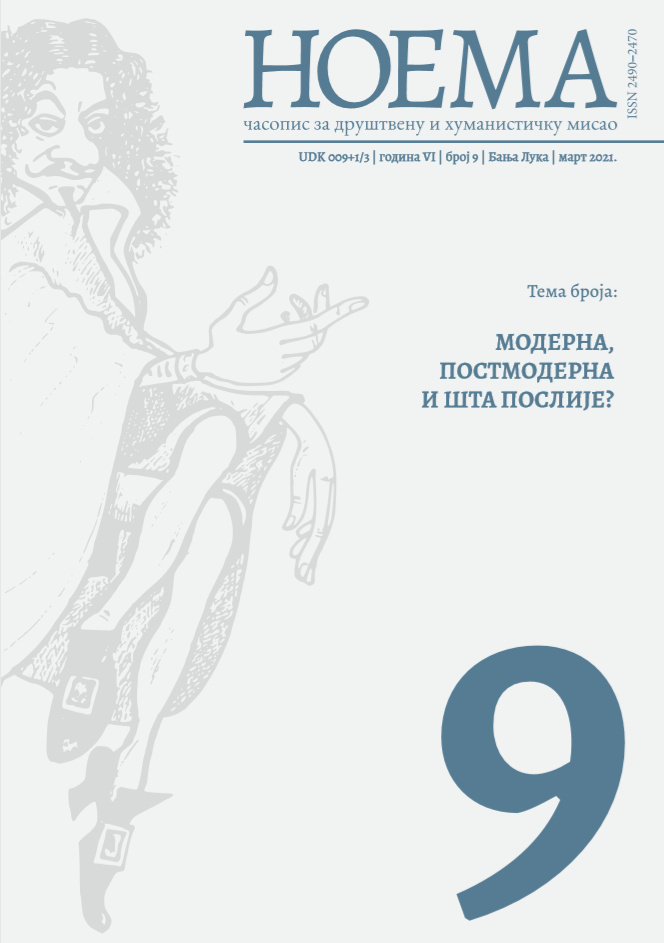 How to Cite
Selimović, E. (2021). HISTORICAL SCIENCE BETWEEN TRADITIONAL HISTORIOGRAPHY AND POSTMODERN CRITICISM IN THE LIGHT OF SEVERAL WORKS OF HISTORIANS FROM BOSNIA AND HERZEGOVINA AND CROATIA. Noema: Journal for Humanities and Social Thought, 6(9), 9-29. https://doi.org/10.7251/NOE2109009S
Copyright (c) 2021 Elvir Selimović
This work is licensed under a Creative Commons Attribution-ShareAlike 4.0 International License.